Denfeld Sr High School

In Memory
Laurelen Klimek VIEW PROFILE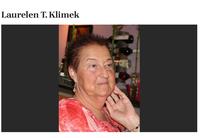 Laurelen Therese (Laur) Klimek, age 74, of Duluth, Minnesota, passed away on January 29, 2023, at Hallmark Nursing Center in Denver, Colorado. She was visiting her brother and his family in Colorado when she suffered a heart attack that required hospitalization, then skilled nursing care and ultimately hospice.
Laur was born June 6, 1948, in Duluth, Minnesota and lived most of her life in Duluth, except for several years when she lived in Des Moines, Iowa to be closer to her daughter. She graduated from Denfeld High School in 1966. She graduated from the Duluth Technical Institute LPN program and worked at Chris Jensen Nursing Home. In 1984 she completed her Bachelor of Arts in Nursing degree from The College of St. Scholastica and worked in various nursing and supervisory capacities at Chris Jensen, Cook Home, and Miller Dwan Medical Center. Her work at Miller Dwan Burn Center / ICU was the most satisfying of her carrier having developed lifelong friendships with her colleagues. Upon leaving Miller Dawn, Laur worked part time providing home health care services.
Laur loved to travel and take vacations. Her travels took her to see family and friends in various states as well as multiple vacations in Mexico. She would often tell stories about the wonderful vacations she took with her cousin Patricia Talarico. She also enjoyed working on crafts and photography.
Laur was the third child of August and Lauretta (Talarico) Klimek. She was proceeded in death by her parents, her daughter Danice Klimek, and her sister Liana Bush-Walczynski. She is survived by her brothers Dr. David (Ginny) Klimek of Ann Arbor, Michigan, and Daniel (Judy) Klimek of Lakewood, Colorado; very special nephew Marty (Lauri Sanford) Bush of Duluth, and many nephews, nieces, cousins, relatives, and friends.
A memorial service is planned for June 5, 2023, at St. James Catholic Church, 721 N. 57th Ave. W., Duluth, MN 55807. The visitation will start at 9:30 AM, with Mass at 10:00 AM. A reception in the parish hall will follow the Mass.
https://www.duluthnewstribune.com/obituaries/obits/laurelen-t-klimek-5d0135ff67a60618cb3bf3a9-646cac33ac2839363e2662b9?fbclid=IwAR11ivoIHNTxXz5oz1Es6z
Click here to see Laurelen's last Profile entry.